As Doped Monocrystals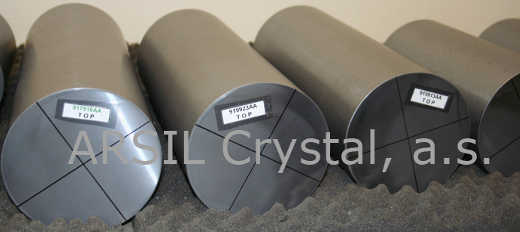 Brief product description
Arsenic doped silicon crystals present a sophisticated semiconductor product used in electronics.
The crystals are produced from very pure raw materials and intentionally highly doped with the Arsenic. Production process objective is to prepare the best material base for excellent final devices with superior parameters and functionality.
The crystals are sliced to wafers and act mainly as a substrate used within a production of Epitaxial wafers.
The wafers are intended for a production of discrete semiconductor devices.
In a consumer market stage the discrete devices are used especially in the automotive industry, communications, and information technologies.
Our As doped Monocrystals can provide you the following benefits:
Excellent electro-physical parameters,
Customized / Tailor-made production,
Superior electronic grade inputs (Hemlock, Wacker, Momentive, SGL,…),
High value for competitive price,
Careful services (possibility of grounding, flatting, transportation, superior packing,...).
General product specification
Many key crystal parameters influence in different ways the quality and the functionality of a specific resulting device. Thus, the arsenic doped crystal specifications vary, based on customers needs, very often. Due to the specific parameter needs, the crystals are considered as special and customized products.
Our actual As doped monocrystal production possibilities are presented by the following general arsenic doped crystal specification.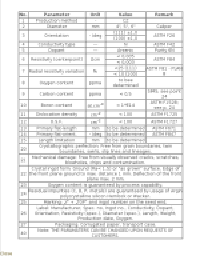 Here you can download PDF version:


No.
Parameter
Unit
Value
Remark
1
Production method
-
CZ


2
Diameter
mm
4", 5", 6"
Caliper
3
Orientation
- /deg
(111) ±1,0
ASTM F26
(100) ±1,0
4
Conductivity type
---
N
ASTM F42
5
Dopant
---
Arsenic
Purity 6N
6
Resistivity (centerpoint)
Ωcm
< 0,005
ASTM F84
< 0,003
7
Radial resistivity variation
%
<25 (111)
ASTM F81 - PLAN B
< 10 (100)
8
Oxygen content
ppma
to bee determined


9
Carbon content
ppma
< 0,5
SIMS; see point 24
10
Boron content
at.cm-3
< 1*E14
ASTM F1528; see p. 24
11
Dislocation density
cm-2
< 100
ASTM F1725
12
O.S.F.
cm-2
< 100
ASTM F1727
13
Primary flat-length
mm
to be determined
ASTM F671
14
Primary flat-orient.
- /deg
to be determined
ASTM F847
15
Length limitation
mm
to be determined


20
Crystallographic perfection: Free from grain boundaries, twin boundaries, swirls, slip lines and lineages.
21
Mechanical damage: Free from visually observed cracks, scratches, blowholes, chips and contamination.
22
Crystal ingot form: Ground (Ra< 1.5) or "as grown" surface. Edge of the front plane ground to max. distance 1 mm. Deflection of the front plane max. 2 mm.
23
Oxygen content is guaranteed by process capability.
24
Residual impurities (C, B, P, metals) are guaranteed by usage of virgin polycrystalline silicon Hemlock or Wacker.
25
Marking: "Y" + "TOP" and ingot number on the seed end.
26
Label: Manufacturer, Spec. no, Ingot no., Conductivity, Dopant, Orientation, Resistivity (spec.), Diameter (spec.), Length, Weight, Production date, Oxygen.
27
Packaging: Corrugated paper, transport case.
40
Note: THE PARAMATERS CAN BE CHANGED UPON REQUESTS OF CUSTOMERS.
Close